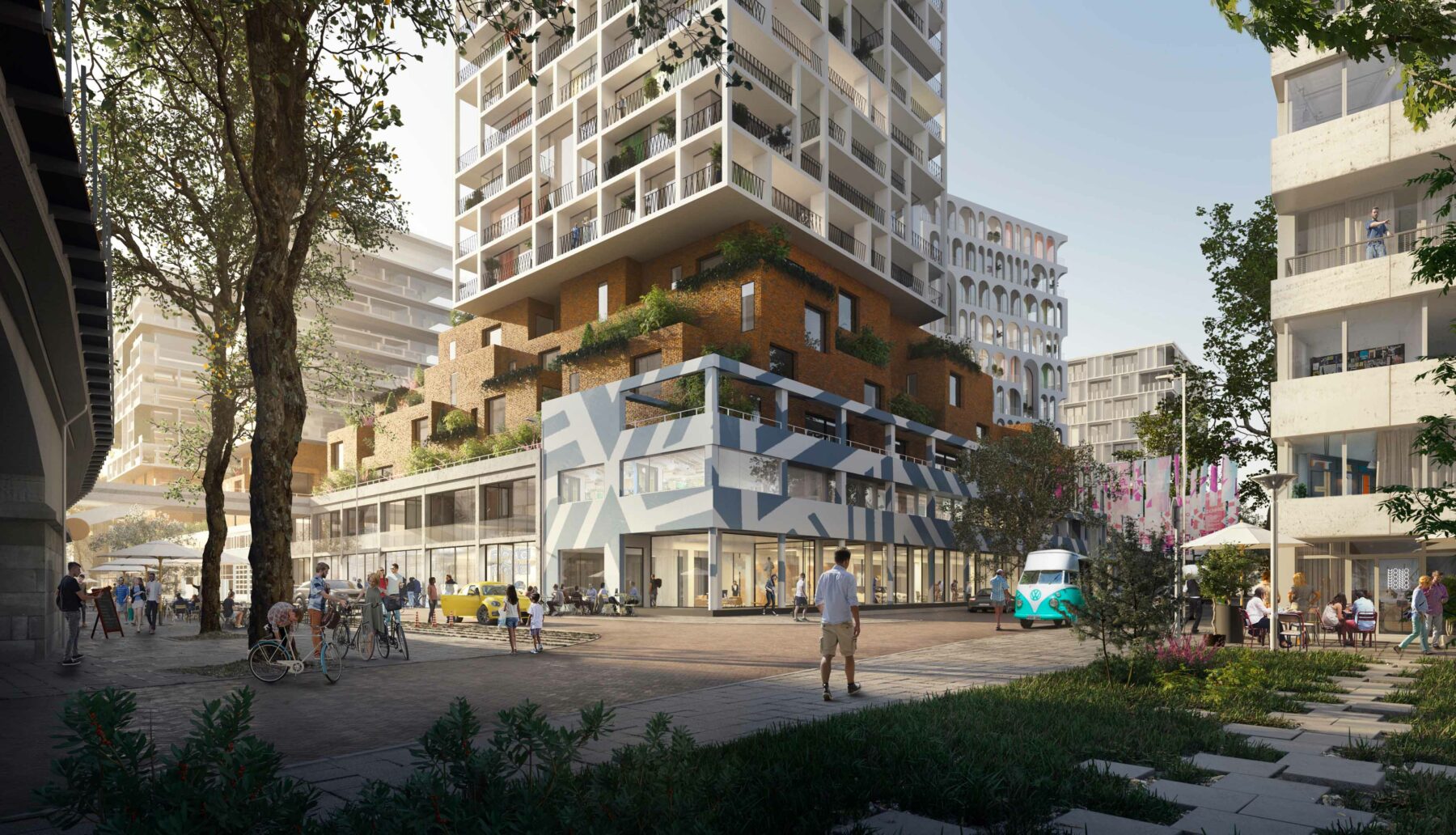 A mixed urban neighbourhood
The Zomerhof Quarter is wedged between the city centre and the Agniesebuurt in Rotterdam. Over the past decade, creative residents and entrepreneurs have transformed this area of commercial buildings into a lively working area: ZOHO. This unique piece of 'almost inner city' is 100% Rotterdam style, yet at the same time, it has its own identity, shaped by contemporary entrepreneurship, social initiatives and lively communities.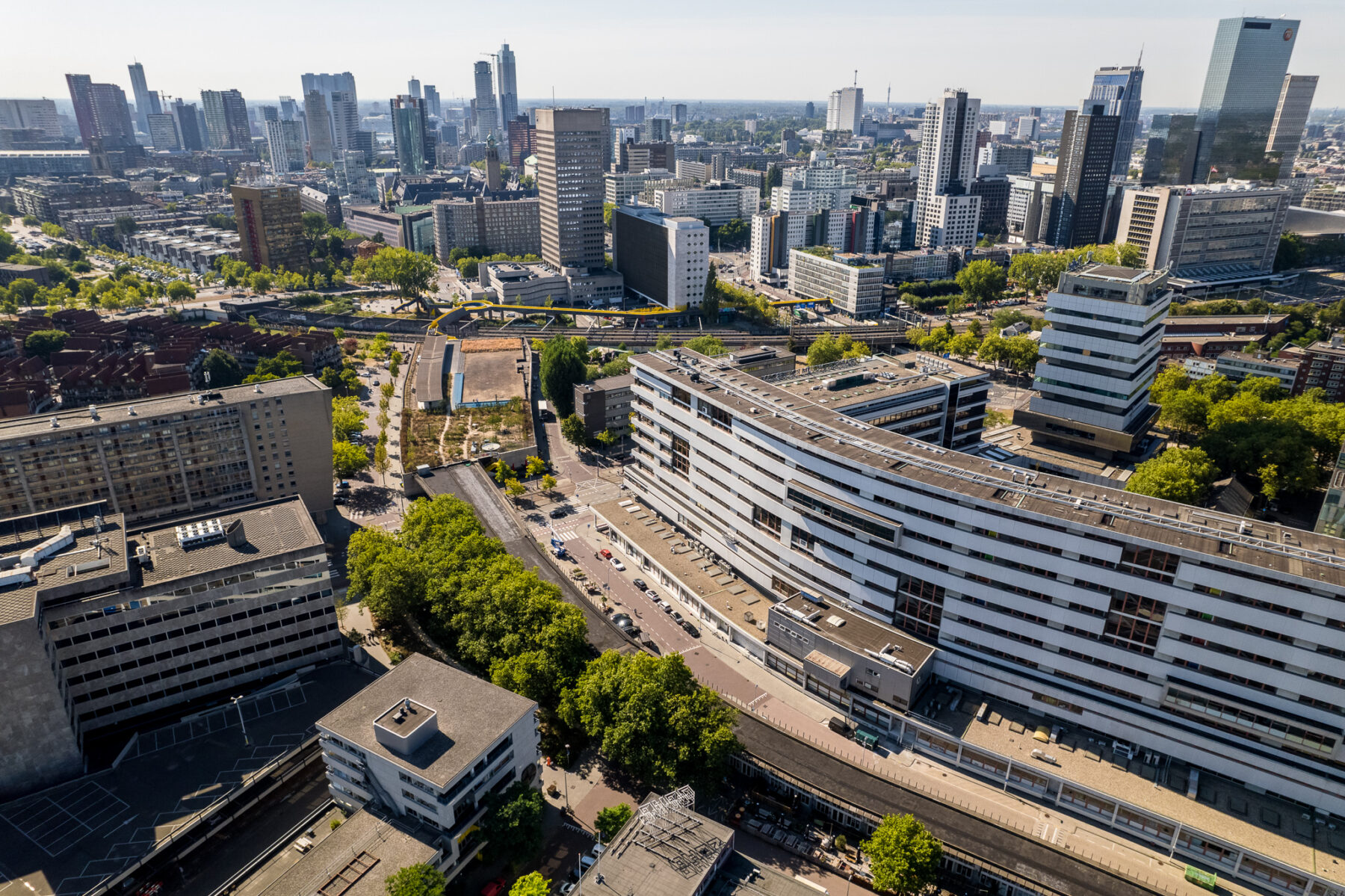 Life on different levels
In the plan, three living environments are stacked and intertwined: the LAB, LAND and CITY layers. A raised peat landscape is laid on top of the existing industrial production layer, with a tower landscape on top of it. In doing so, the plan not only stacks the different living worlds and ambitions but also interweaves them through unique public and collective spaces, such as an indoor sports field, a living room, a mobility hub and a public grandstand.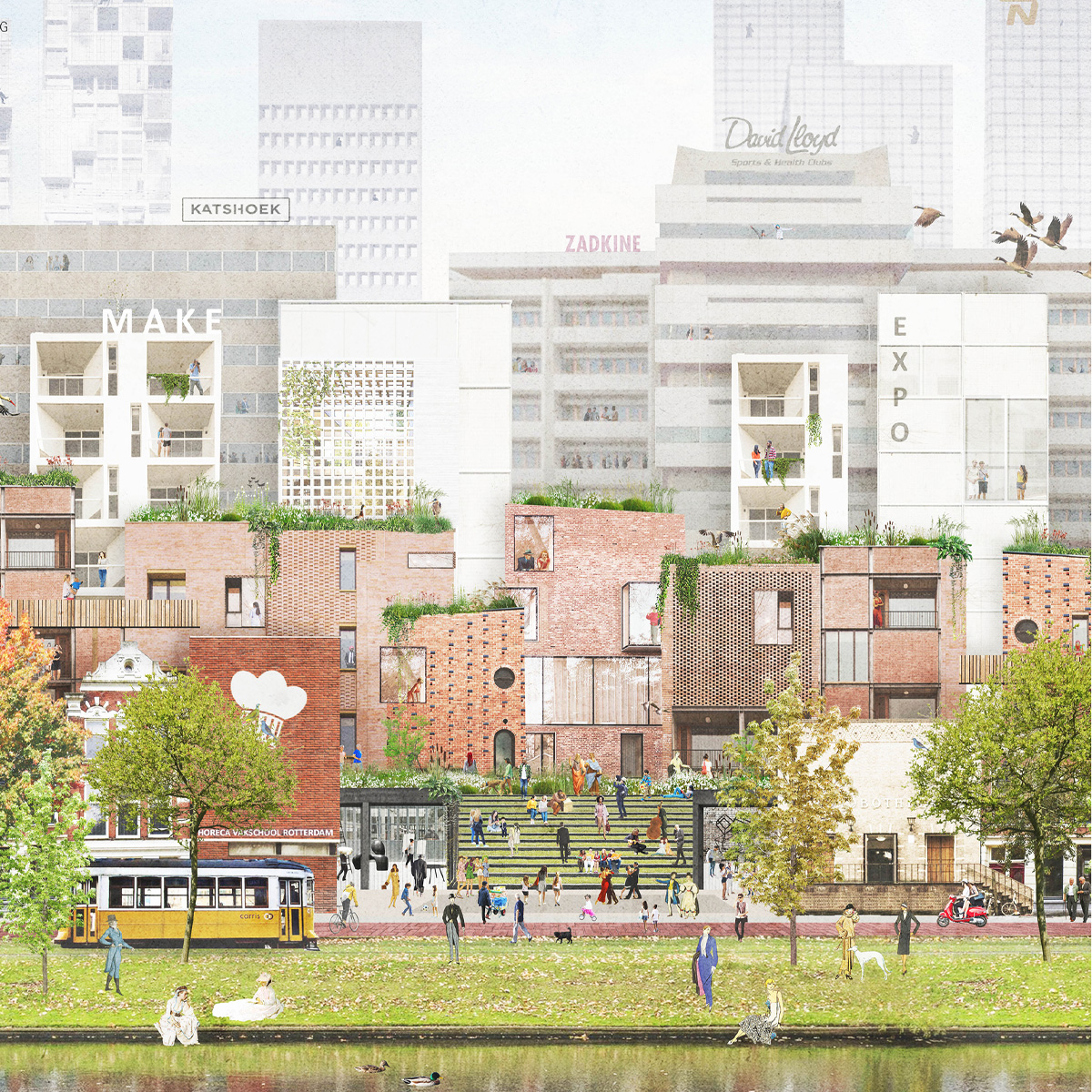 Lab, Land, City
ZOHO Lab; the city of creators
The structure and plot dimensions of the commercial buildings are preserved as much as possible. The buildings have a business-like reconstructed architecture, in which a concrete and steel skeleton predominates. They are built against each other to appear as if they were separate buildings. With the transformation of the existing ZOHO buildings, the current height of six to nine metres will be used to keep room for entrepreneurial experimenting, social purposes and innovative housing forms.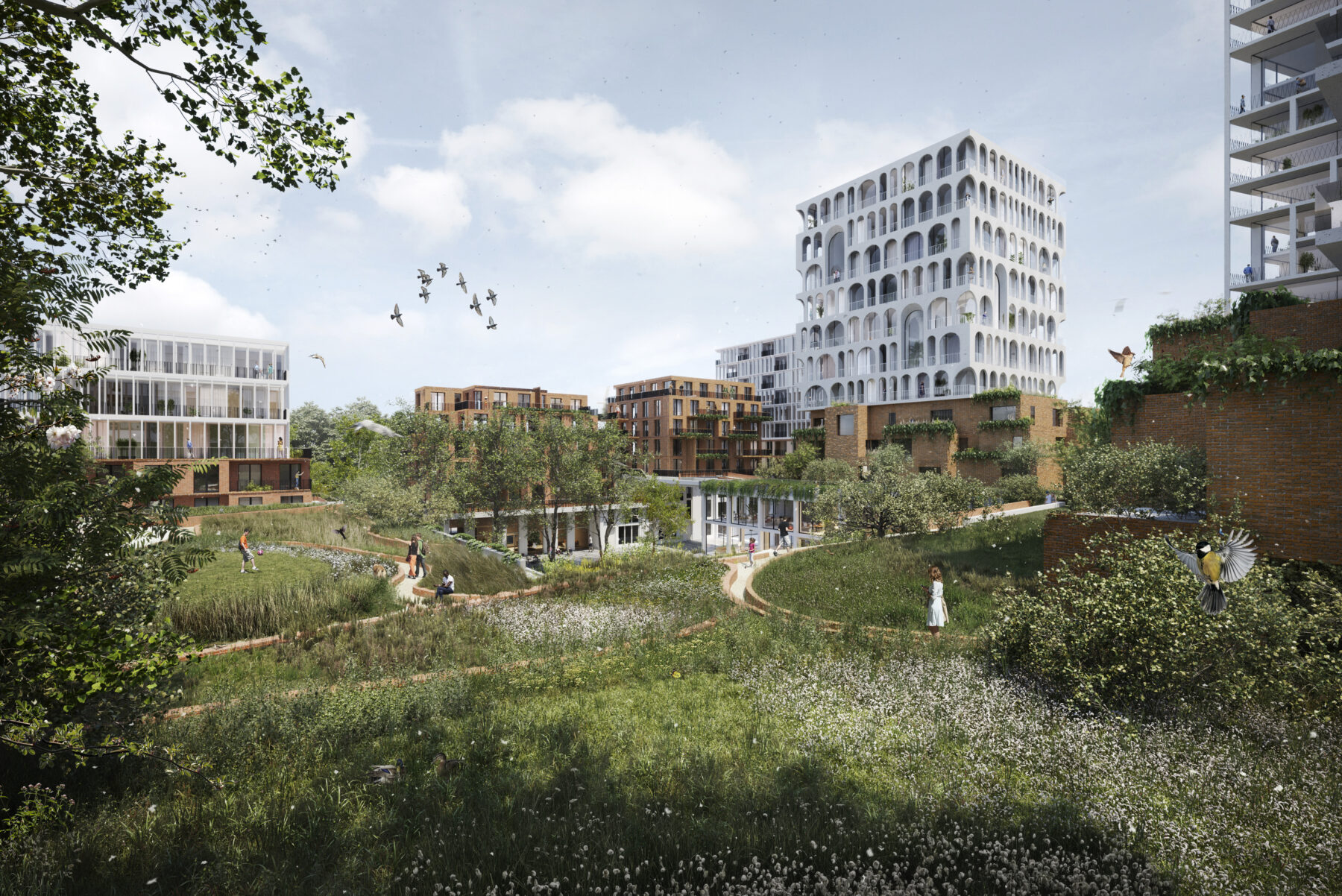 Lab, Land, City
ZOHO Land; a connecting green rooftop landscape
The rooftop landscape of the ZOHO LAND layer forms a climate-adaptive buffer in which peak rainfalls can be absorbed, and water is stored for irrigation in dry periods. At the same time, this green rooftop landscape connects the different layers in the plan.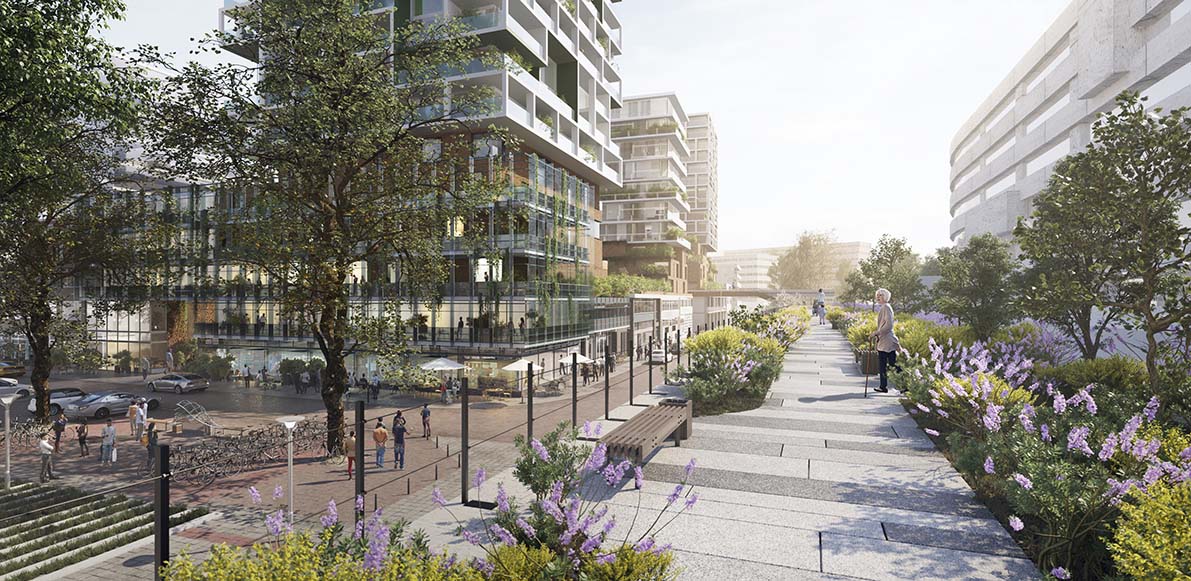 Lab, Land, City
ZOHO City; a diverse housing offer
The CITY layer sets the scene for the neighbourhood, and the residential buildings rise as striking city blocks above the LAND layer. The CITY layer comprises eight different city blocks with various grain sizes. Spacious blocks for sale and (medium-priced) rental properties are being developed in which collective housing forms are possible. There is room for social housing in two places. The Co-living Hotel will also attract a target group, strengthening interaction within the Zomerhof Quarter and its relationship with the neighbourhood.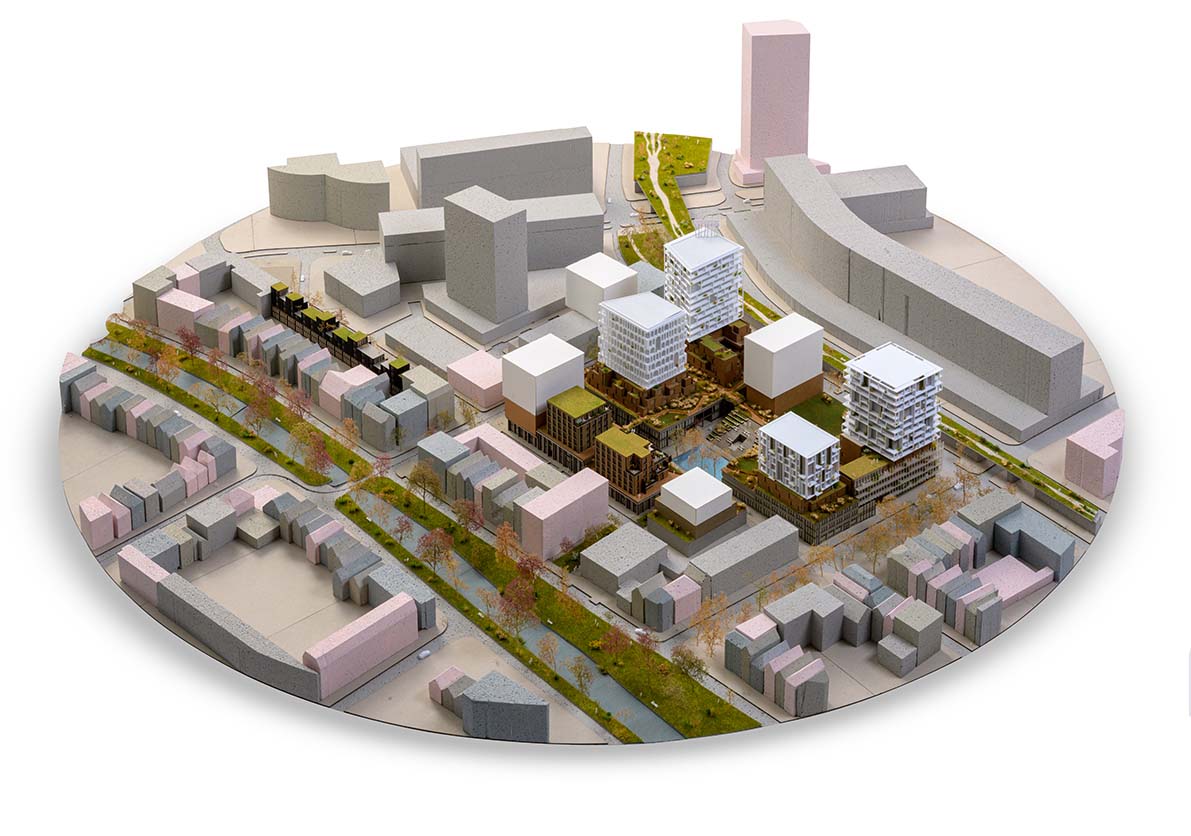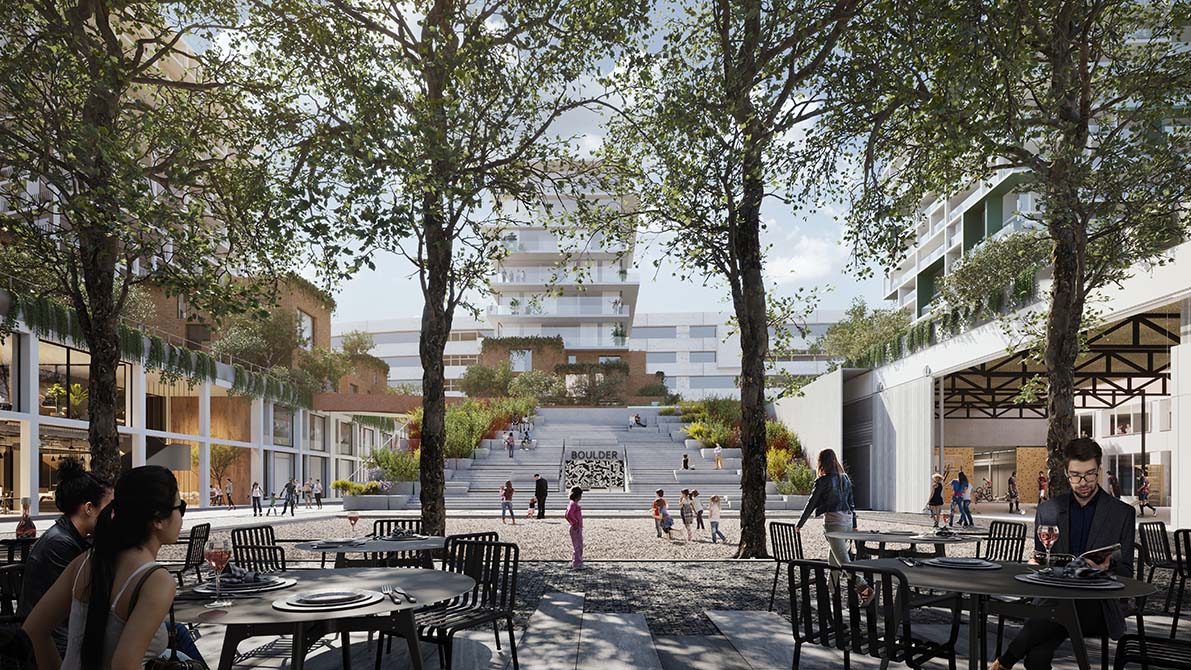 A lively and social place to stay
The plan is distinguished by a rich diversity of private, collective and public places. The mobility hub, living room, collective spaces in the raised landscape and shared spaces in the buildings provide informal connections between the LAB, LAND and CITY layers. The inner world of ZOHO will be car-free and is designed with many social facilities, housing entrances and lobbies of the different residential buildings. Clear and bright building lines create a new city piece that combines living, working and social facilities in a car-free public space. These building lines and the new public space strengthen existing connections with surrounding streets and create new links.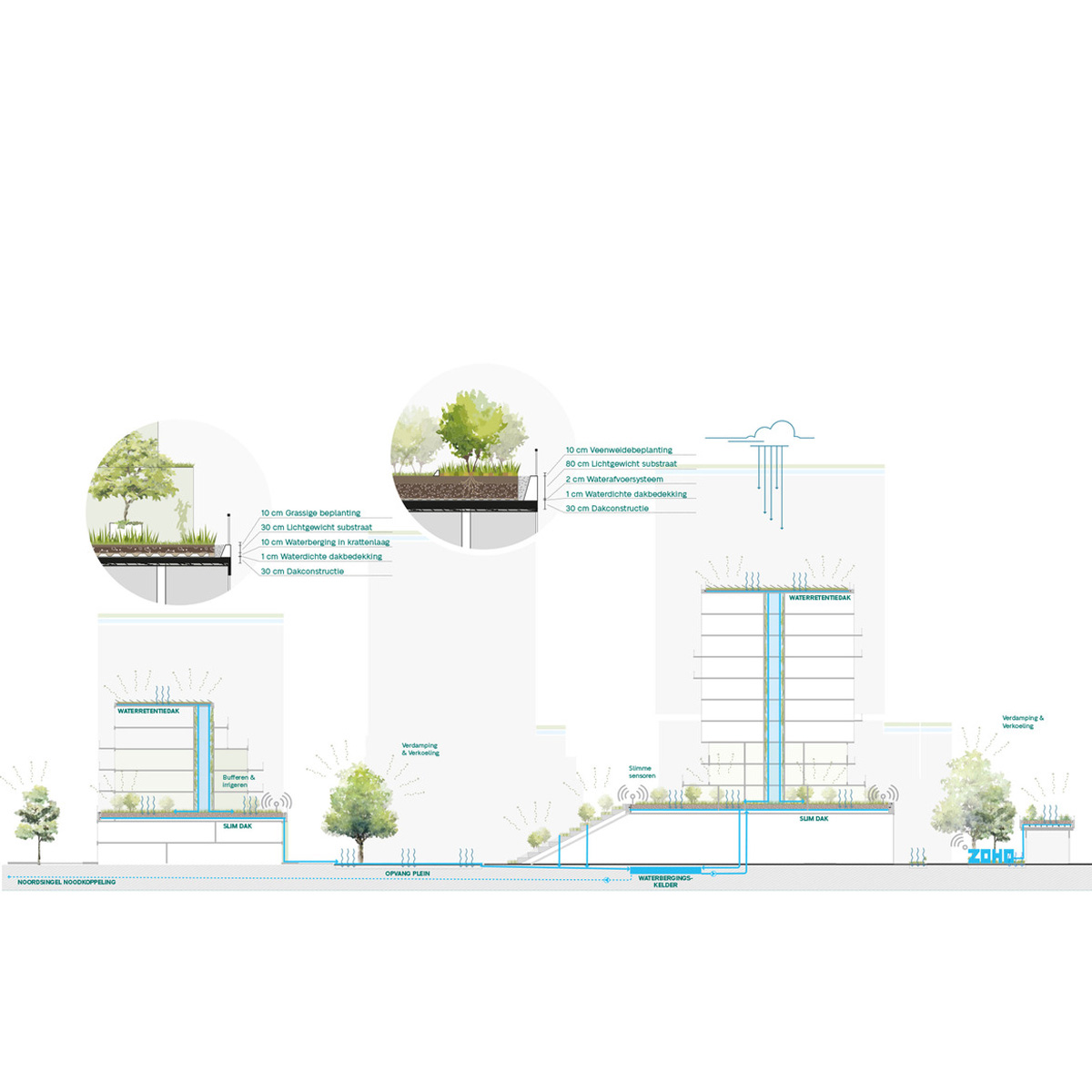 Details
Climate adaptation in a sponge city
The peat-inspired rooftop landscape offers many opportunities for collectives – for gardening and landscape maintenance – and for recreational facilities – for playing, staying and walking. The rooftop landscape houses a unique climate-adaptive innovation: a 'sponge' with an underground reservoir for heavy rainfall and an irrigation system for extreme drought in summer. This landscape will form the connecting layer in the Zomerhof Quarter. This landscape is connected to the creators' city (the LAB layer) through a large grandstand, a public sports hall, a living room, a mobility hub and several collective places.
Details
Programmatic mix
In Rotterdam, less affluent residents and local (start-up) entrepreneurs are receiving less and less attention. As a result, the inner city is becoming more of a monoculture with high housing costs and a one-sided supply of facilities. We have a unique opportunity in the Zomerhof Quarter to develop a new working-class neighbourhood with a healthy programme mix that is lively and vibrant, with a much broader composition of residents and users attracted to the vast diversity of functions and facilities. The energetic and innovative entrepreneurship that we already see in ZOHO will be embraced and welcome newcomers to the neighbourhood, enhancing the interaction in the Zomerhof Quarter.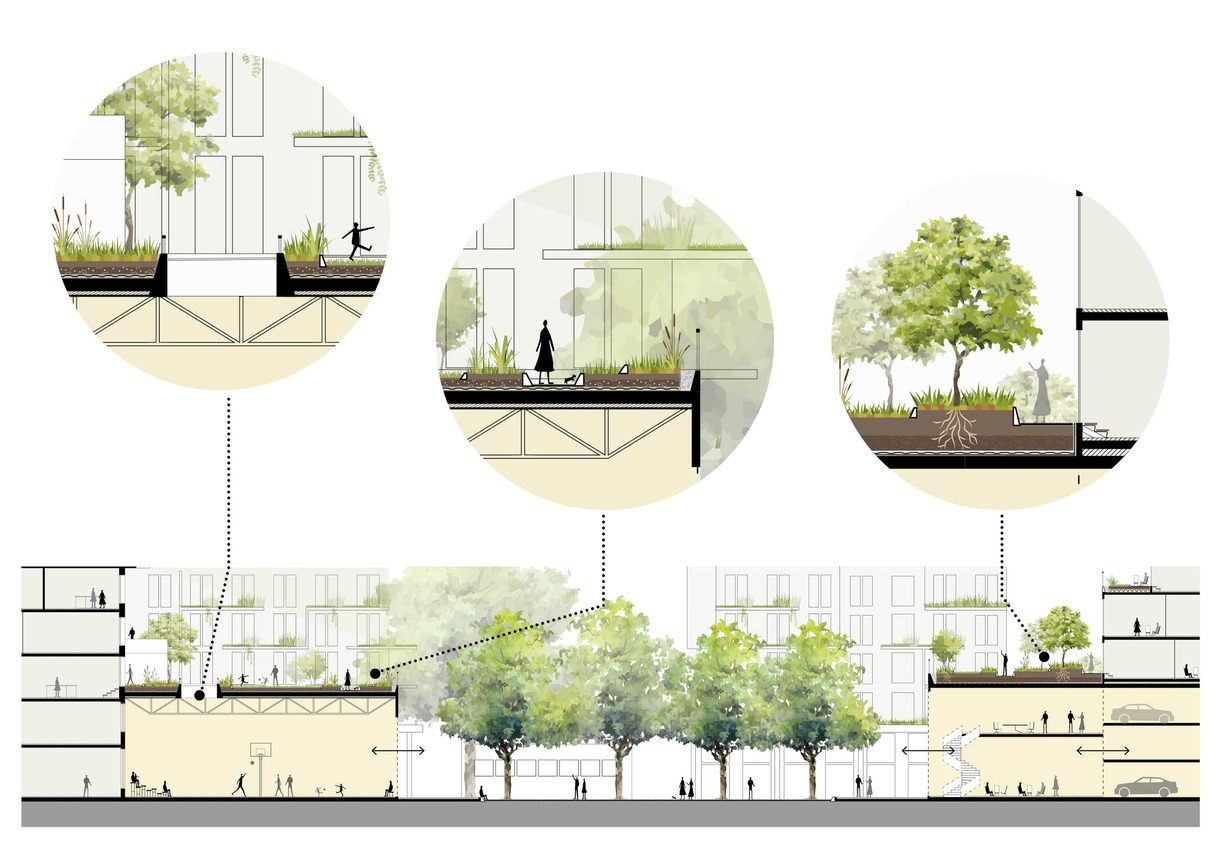 Details
An open relationship between the building and the environment
Shared semi-public spaces reinforce an informal vertical connection between the layers of stacked ambitions. People live, work and play on each level.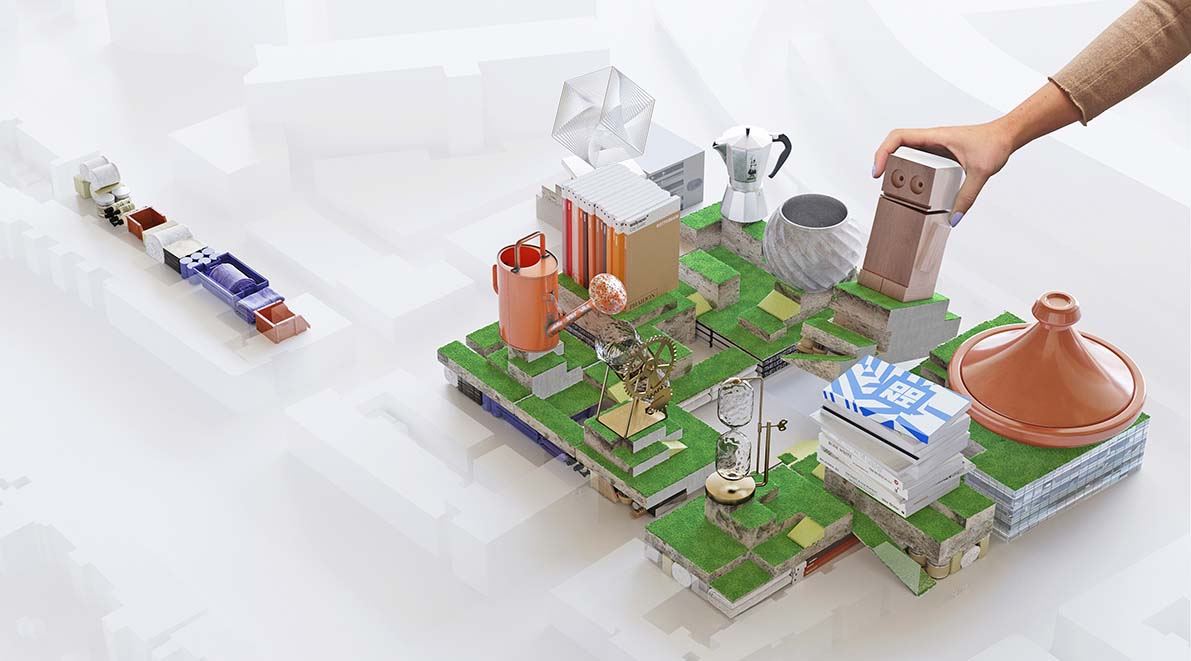 WOULD YOU LIKE TO KNOW MORE ABOUT THIS PROJECT?
Lieke will be happy to tell you about it.