The new interministerial Ministry of Makers called on 100 designers
Proud and optimistic!
The new interministerial Ministry of Makers! called on 100 designers and experts to use their collective knowledge and imagination to come up with new designs for the Netherlands. The Ministry of Makers! thereby aims to contribute to the radical transformation of the Netherlands and offer concrete solutions towards the housing shortages, the energy transition and the consequences of climate change.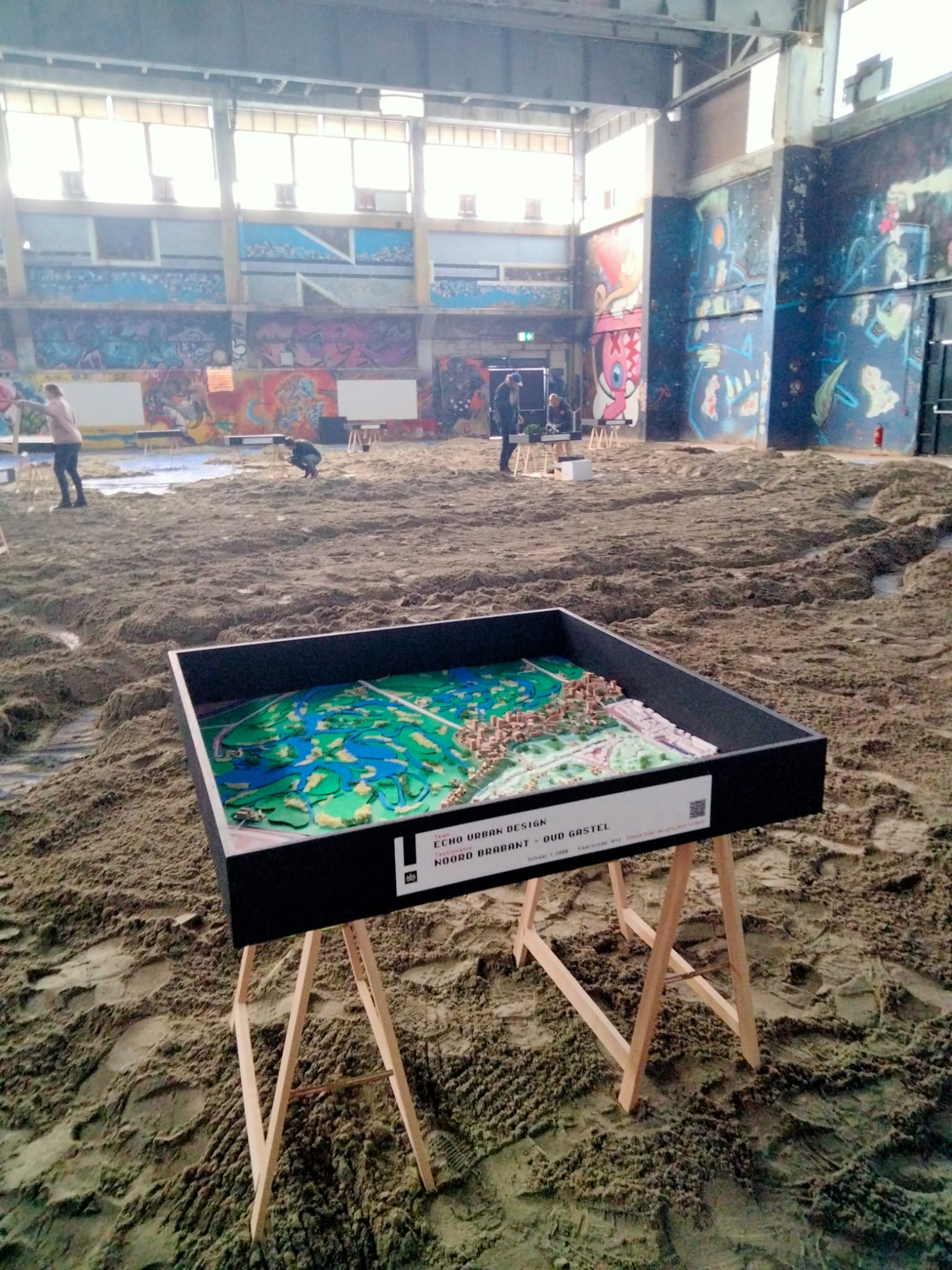 With this initiative, the Ministry of Makers is applying an approach that is national, yet also local, specifically by using 100 concrete Test Locations as a starting point. It is a national zoning plan, as applied in the past, but now enriched with local design power.

ECHO urban design is one of those design agencies; view our result here!
OLD GASTEL 2.0, RAVAGED BY THE INCREASING RISK OF RISING WATER LEVELS, WILL BE PROTECTED BY A 'SUPER DYKE'.
The location, Oud Gastel, like many towns in the lowlands, is plagued by the increasing risk of rising water levels both in our hinterland and along our coastal regions. Our design does not include a classic dyke around the village; instead, we will realise a 'super dyke' around it. A dyke in which we position distribution centres and data centres (functions that do not need daylight) on the first two layers, allowing us to optimally use the remaining space for living, working and recreation. We connect the town to the greenery from the surrounding landscape through roofs, facades and public spaces and ensure that this surrounding landscape remains accessible through several canal locks.
As these locks serve social and societal functions, we limit the number of closed façades, keeping the public space lively. The locks can be closed at high tide for optimal protection during bad weather and can be opened at low tide for more interaction with the surrounding landscape. In time, these locks will be closed permanently due to the rising sea level.
This design exercise has rekindled lots of optimism within our agency. If we venture to tackle the tasks integrally and on a large scale, we can deploy our economic strength associated with housing production to mitigate ongoing transitions, such as climate change and impoverished biodiversity. Intensive construction should be possible in an ecologically neutral way so that the earth benefits from our investments.
Tonight is the grand opening of the 10th edition of Architecture Biennale Rotterdam's architecture exhibition, where everything is brought together to create the largest Dutch diorama ever!

Location: Ferro, Keileweg 25, Rotterdam
Date exhibition: 14-10-2022 tot 13-11-2022