Junior Landscape Architect Hero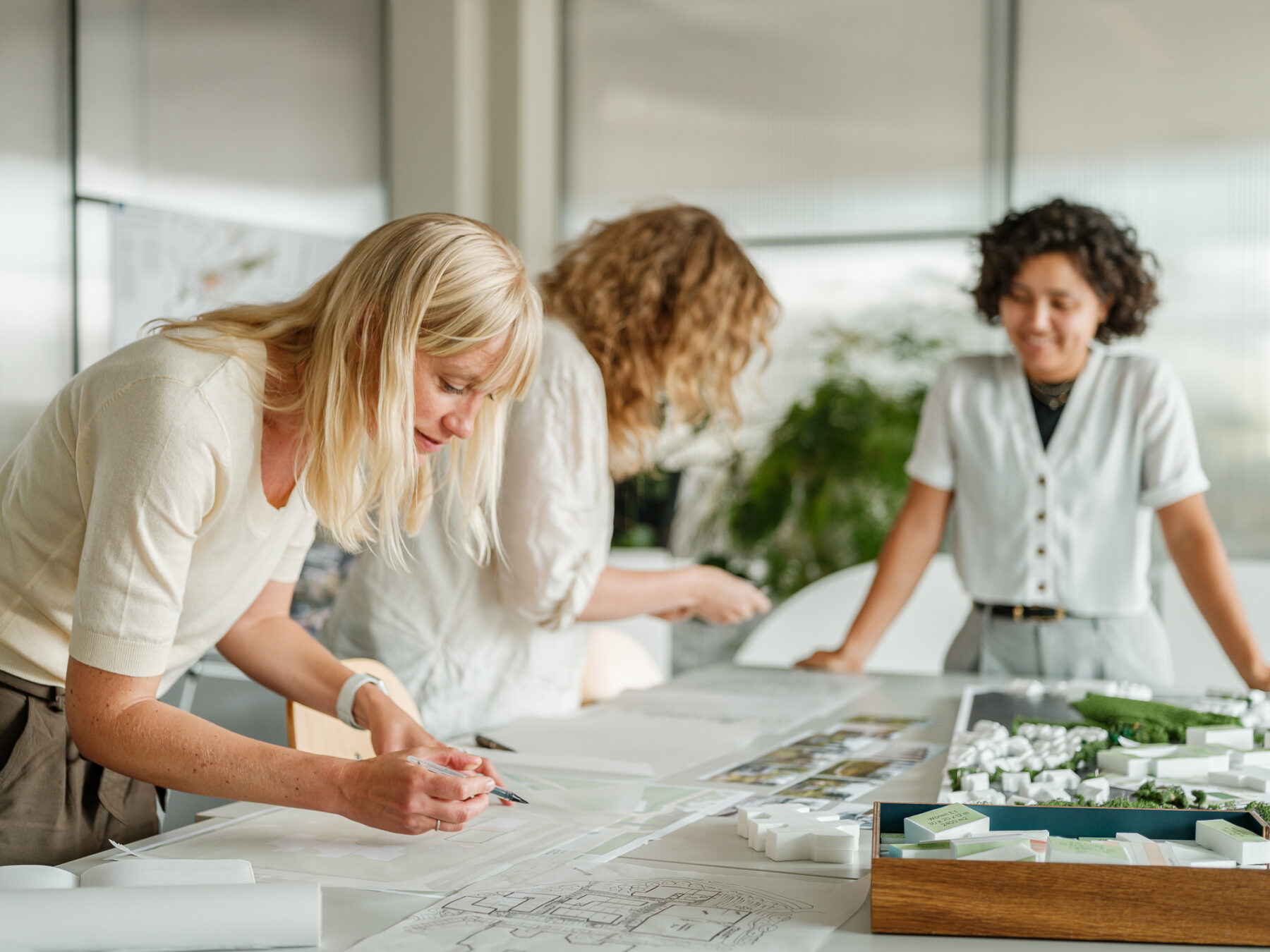 WE LISTEN, WE PLAY, WE DELIVER. AND YOU?
Do you get energy from intricate city centre projects? Does your heart beat faster when it comes to future-proof design with special attention to sustainability and the human dimension? Do you also envisage fully integrated and layered solutions for densification and transformation projects? Then we are looking for you!
The position.
A driven junior landscape architect with an affinity for urban planning and architecture. Working in inclusive teams on complex design briefs in both inner-city and suburban contexts.
You enjoy the challenge of conducting thorough research, coming up with spatial concepts and visualising subdivision plans and analyses. You participate in our design workshops and, together with your team, you know how to get the best out of every project.
Everyone in the team – regardless of discipline or experience – contributes to the design and has their own responsibility. We know each other's talents and deploy them at the right time. Giving and receiving constructive feedback is essential in our way of working. Together, we arrive at a solution for the most complex tasks.
You prepare consultations and presentations and elaborate plans at various scale levels. It goes without saying that you have a high level of expertise. In your designs, all the details are right and the finishing touches are on point.
About ECHO.
From our beautiful office overlooking Rotterdam Central Station, we design liveable urban areas with an interdisciplinary team (urban designers, landscape architects and architects). We see densification as an opportunity to actually create more space through smart design. Our integrated approach allows us to deviate from traditional urban layouts and create new standards. Our vision is a layered and interwoven city with room for nature and landscape, including grand gestures, in which a community can flourish.
The new colleague.
You will fit in with ECHO if you;
are an inspired professional and creative in your designs
have a great sense of responsibility and never stop learning
work carefully, with a keen eye for detail
like working in teams and you are not daunted by deadlines
see yourself as committed, individual, ambitious and curious
you like hard work, but drinks, social activities with your colleagues, shared lunches and a dynamic workplace also inspire you.
We consider it important that you;
0 to 3 years of relevant work/traineeship experience
an affinity with inner-city assignments, subdivision plans and the development of outdoor space
excellent visual imagination
knowledge of software programmes such as Adobe Illustator, InDesign and Photoshop and Vectorworks and/or Rhino is a preference
a successfully completed Master's degree in Urbanism or a completed Bachelor's/Master's degree in Landscape Architecture
working language at the office is Dutch. (international candidates welcome)
ECHO as an employer.
a versatile, challenging job (32-40 hours)
a competitive starting salary
generous leave scheme of 30 days' holiday per year + week off between Christmas and New Year at employer's expense
non-contributory pension scheme
development budget
full public transport reimbursement (outside Rotterdam)
after one year of employment, the opportunity to follow the PEP programme.
Have you become enthusiastic after reading the vacancy? Then we would like to get in touch with you!
Send us your details including your: CV, short motivation (one, A4) and your portfolio via the link below. If you have any questions, feel free to ask our HR manager Nathalie. Who knows, we might soon be.